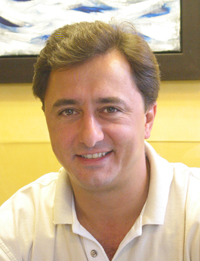 Conventional is not a word you'd ever associate with Chris Lenz. The full-of-life Canadian made his name with the horror themed Igor's restaurant, and since then has opened a further 12 outlets in just 6 years. This August his fourteenth restaurant, The Cavern, will open at the top of Lan Kwai Fong bringing new life to the previously quiet end of the block with a roaring 60s creation.

What does it take to be at the helm of such a meteoric growth? How does he keep up with all the different restaurants and where is he going next? And what are his top 5 tips for keeping ahead of the game? GSA talks to one of Hong Kong's biggest F&B players.

Kicking convention has been Lenz's second nature ever since he bailed on his architecture course and on the strength of a 2 second decision decided to fly to Switzerland and work the summer at The Grand Hotel Kronenhof near St Moritz, which he'd seen in a brochure.

Three years of waitering later his Swiss chef father suggested he go to hotel school and take over the family business. Not one for formal education "I didn't even graduate from high school. I was president of the school council so I got my diploma although I never took any exams" he elected to do a three month cooking course and then joined the Relais & Chateaux acclaimed Fishcherzunft restaurant for four years. From there to the Hotel Sonne, Stein and Rhein for a year and then he was suddenly catapulted from historic Switzerland into the corporate hotel world of Hong Kong with Assistant F&B manager for the Omni Hong Kong Hotel (later the Hong Kong Hotel and now the Marco Polo).

"At 23, 24, I was the youngest ever assistant F&B manager," he smiles. "Then regional F&B, and then director of F&B Asia at 30. It was intimidating though. I was at wine dinners with people from Cornell and Lausanne, graduates, with certificates up the yin yang. I didn't stack up, but I knew they had no balls so my conclusion was I'll make a mark, I'll break the mould."

His reputation for wacky original ideas started with the German beer fest. "Five star hotels didn't do beer fests in the car park," he says. "but it brought in millions of net profit." He went on to create themed tea breaks, and planted the seed of Igor's with a themed PR manager's luncheon, a joke for the PR director who, clearly impressed, is now his wife.

Despite finding an outlet through these transgressions of the conventional F&B style, the corporate world of hotels stifled him. "I was known as the cowboy underdog, breaking all the rules. Half the time I was dressed up for theme parties. But it was claustrophobic, the corporate suit-and-tie environment."

He made the jump into a life of full time theme costume wearing after a boring meeting in Singapore where he dreamed up the Igor's concept. That was January 97, he resigned March 97, staying to see in the handover and then in January 98 opened his first Igor's.

"Everyone said don't do it. But I was boxed in so I just went and did it anyway. It was dangerous but the idea was so deeply ingrained that if I didn't do it I knew for the rest of my life I'd regret it. I was prepared to fail just to get it out of my system. All my friends thought I was nuts until they realized how serious I was, and then they started investing… and thank god it worked. If not I'd probably have gone back into hotels and probably be unhappy."

Since then he has added Igor's Singapore, Nomads, Stormy Weather, 6 Wildfires, The Boathouse, La Bodega, the Keg and Malin to his stable of entertainment outlets. Does he have a favourite? "They are more like children. Each child born is new and gives you great pleasure and great sadness. I don't pick one over another."

And so far there has been only one black sheep of the family: Igor's Stanley. The universal outcry which greeted his gargoyled creation on the corner of Stanley Main Street prompted Lenz to take a very unconventional honeymoon. The day after he got married he, the chef, the manager, the boat boy and his brother took everything off it and painted it top to bottom transforming it into The Boathouse. "We took alot of negative press. The old expression that all press is good press is not true. It put a sour taste in peoples' mouths and things went downhill from there. That said, we did make money. In fact we made half the investment back in nine months. However the trend was downward and the writing was on the wall. We changed to Boathouse and things have been very good ever since!"

But it's not all a beers-and-bar-snacks life and Lenz seldom finds himself dressed up as Captain Chernobyl any more. "Running that many venues is a pain in the backside," he says bluntly, from his bustling office above Wyndham Street. "If I keep going I'm not running restaurants any more, I'm running a company. And it's much harder with new concepts. There's no standard system, no continuity, which makes the management side difficult."

Despite his hate of being stuck in the office, the only way is up, in his mind. "How we've got this far I'm not sure - momentum and pure excitement, I think. We are on the threshold of being a huge company and franchising Wildfire, and we'll hit 300 employees with The Cavern. We'll keep going and break through into being an internationally recognized company or fail and lose 5 restaurants. Until then, it's how far can we go?"

At the same time he's mindful of the responsibilities which come with running such a big concern. "The people in the office are pros," he says, "with long term commitments to the company. It's not just about Chris Lenz any more…"

With plans to franchise Wildfire, develop Singapore, "Singapore is a very important address on the international scene" and perhaps go into another city, Lenz is always on the lookout for the next opportunity. "We are an opportunity driven company. We have fourteen restaurants, and only planned two or three."

Part of his success came, ironically, due to SARS. While he vamoosed his family to Phuket and sold his stocks, he kept the money coming in courtesy of The Boathouse and Wildfire Stanley as customers flocked to the south side of the island for fresh air, while he faced the same problems as everyone else in town. But then he began to see the opportunities come flooding in. "I thought we may as well go under with our hair on fire. If I couldn't hold what bar could? So I signed every decent deal I found. A lot of people make good money when things are bad."

And he's not waiting for the economy to climb right now either. "We've had a great few months and overall the next three years will be good," he says. "I've never seen stability in Hong Kong. It's either up or down. When things go up we lose staff to hotels, the turnover goes up, we have to manage. When business dips, resources dip, we have to manage. We have to manage both ways well."

And he's planning to manage a whole new kettle of fish when The Cavern opens. The new building at the top of Lan Kwai Fong will breathe new life into the top end of D'Aguilar Street and pull the crowds up the hill from the Dolce Vita, C Bar and Stormy Weather corners. With a total of 4,000 square feet of space catering to 800 covers Lenz reckons the new building is going to bring about the biggest change Lan Kwai Fong has ever seen. Amazed that seemingly, no one else saw this coming, he has been strategically buying up small venues at the top of the block with The Keg and Malin, and if all goes to plan he will be hitting the jackpot with the pre and post dinner drinks on the street, let alone with his new sixties venue.

Diving happily back into the world of costume and entertainment Lenz is aware that he's taking another big risk. "In two months The Cavern will be open. The Igor's hump! And by the end of 2004 I'll know if I've been clever or stupid."

Watch this space…


***


Chris' Top 5 Tips
1 Remember to breathe, and if you have a weak heart, stay at home.
2 If you're married, kiss your wife and tell her you will be home in three to five years!
3 Remember to think of an exit plan before you start.
4 Expect the unexpected and be ready to change.
5 Your people are the company.